For patients who are missing many teeth, the idea of ever having a healthy smile can seem impossible.
At Smiles for Life, we offer Same Day Smile treatment using a zirconia bridge. This treatment allows patients with complex dental issues to completely restore the form and function of their smiles.
Find out what makes this treatment a great option for many patients...
If you are seeking to replace an entire row of teeth with one of the strongest and most natural-looking restorations available, consider a zirconia implant-supported bridge. Unlike traditional prostheses, zirconia implant-supported bridges (also known as Prettau® bridges) are held in place by artificial tooth roots and made from an incredibly durable and lifelike material. Dr. Joe McIntyre, Dr. Dan Whiting, Dr. Kelsey Rockey, or Dr. Bryant Ash will explain the full benefits of zirconia implant-supported bridges during a personal consultation at our Bridgewater, VA, practice. Contact us today to learn more.
Jim has upper and lower permanent fixed bridges (also called All-on-4 or Same Day Smile). He was able to save significantly on his treatment by billing through Medicare and experienced awesome results with his health and confidence.
Benefits of Zirconia Implant-supported Bridges
Many patients consider zirconia implant-supported bridges to be the best form of full-arch tooth replacement because of the unique benefits they offer. These benefits include:
Durability
Zirconia implant-supported bridges are designed to never chip, break, change color, or wear down. This type of restoration is also naturally resistant to plaque and tartar and easy to maintain. With proper care, your zirconia implant-supported bridge can last for the rest of your life, making it one of the most durable restorations available.
Stability
Traditional bridges and dentures are held in place with crowns, adhesives, or clasps, so they can sometimes slip or fall out of position. Additionally, patients with these restorations often have to avoid certain foods like apples or corn on the cob.
Conversely, zirconia implant-supported bridges are held in place by small metal posts that have fused directly with the jawbone. As a result, patients with these restorations can continue enjoying all of their favorite foods while knowing that their prosthesis will always remain firmly in place.
Beauty
The shade of zirconia used for your Prettau® Bridge will be carefully chosen to ensure that your restoration blends seamlessly with your smile. In addition to being extremely durable, dental-grade zirconia also has a slight translucence that gives it an incredibly lifelike look and sheen.
Improved Oral Health
Zirconia implant-supported bridges — like all implant-supported restorations — offer unique oral health benefits. After losing teeth, the surrounding area of the jawbone will no longer receive proper stimulation, which can eventually lead to jawbone recession. Since dental implants integrate directly with the jawbone, they provide regenerative signals that help to halt bone recession.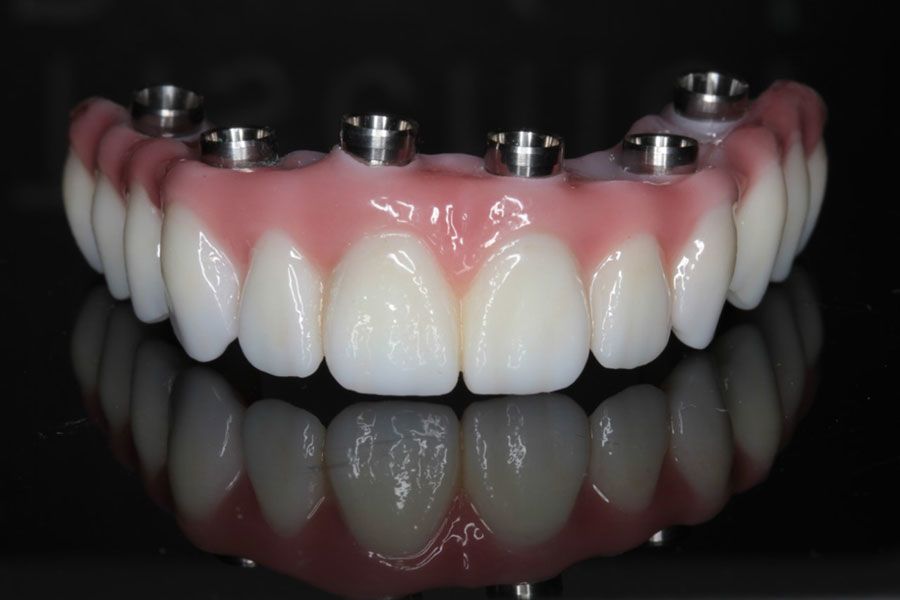 Receiving a Zirconia Implant-supported Bridge
Undergoing treatment to receive a zirconia implant-supported bridge is a multi-step process. The first step is dental implants placement. An upper-arch Prettau® Bridge is supported with six dental implants, while a lower-arch version is supported with five. We will use 3-D computerized tomography (CT) scans to determine the best placement locations for your dental implants. After surgery, the implants will be left to heal so that they can completely fuse with the jawbone. When you return to our practice for the final phase of treatment, we will first ensure a proper fit before securing your zirconia implant-supported bridge firmly in place.
The team of highly trained doctors at Smiles for Life wants to help you achieve and maintain a healthy smile for a lifetime. Because we want every patient to have access to the advanced treatments offered at our practice, we accept many insurance and financing options, including:
Medicare
Compassionate Finance™
CareCredit®
LendingClub®
iCare Financial®
Smile Rewards
To get started, call our Bridgewater office at (540) 828-2312 or request an appointment online.