Partial Dentures for Replacing Multiple Missing Teeth
A partial denture can replace multiple missing teeth in your upper or lower arch without the need for surgery. Drs. Joe McIntyre and Dan Whiting at Smiles for Life Dental Care offer high-quality restorations that complete your smile and balance your bite. Our Bridgewater and Staunton, VA, patients can also take advantage of one of our payment plan options, such as Compassionate Finance or CareCredit™, to afford out-of-pocket costs.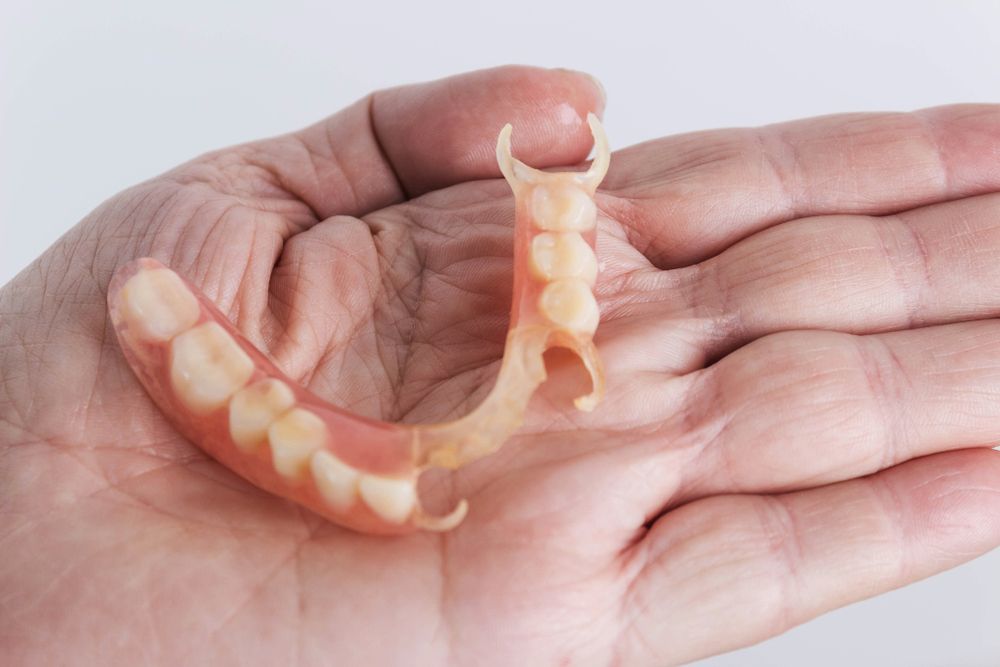 Understanding Partial Dentures
Patients who have lost multiple teeth due to trauma, decay, or disease will need a dental restoration to fill the gaps in their smile. A popular, affordable option is a traditional partial denture. Made of acrylic, these removable restorations are secured in place with metal clasps attached to adjacent teeth. In certain cases, this appliance may also be attached to dental implants.
If you do not opt for dental implants, the teeth adjacent to the gap will help to anchor the partial denture. As such, any decay or defects affecting these teeth will need to first be addressed with appropriate treatment.
Advantages of Partial Dentures
As a restoration designed to replace multiple teeth, traditional partial dentures confer a number of notable benefits, such as:
Improved cost-effectiveness over other multiple tooth-replacement solutions
Nonsurgical approach
Preventing movement of natural teeth
Balancing out your bite across all teeth in your arch
Giving you confidence in the appearance of your smile
Helping you to speak naturally and eat with greater comfort
Maintaining facial structure

Preventing further tooth loss
Guarding against potential jaw issues such as temporomandibular joint (TMJ) disorder
Candidacy for Partial Dentures
Most patients missing multiple teeth on their upper or lower dental arch can qualify for a partial denture. Your doctor will review your oral and medical health in order to determine the most conservative method of treatment. In some cases, they may recommend other treatments before a denture.
You and your dentist can create a treatment plan that takes into account your oral health, budget, and lifestyle.
Patients with one missing tooth, for example, are generally better suited to a traditional bridge or implant-supported dental crown. Some patients may need badly damaged teeth removed while others may have teeth salvaged with another restorative treatment, such as a dental filling. Together, you and your dentist can create a treatment plan that takes into account your oral health, budget, and lifestyle.
Creating Your Partial Denture
After you have received any necessary preparatory treatments, your doctor can take detailed images of your teeth and gums. Using this information, the lab will fabricate your customized device, a process which usually takes a few weeks. When the prosthetic is ready, you can return to have the partial denture placed. At this time, your dentist will ensure that the device fits in aesthetically with your natural smile and complements your bite patterns to avoid jaw pain and other oral health concerns.
Restore Your Oral Health & Smile Today
If you have multiple missing teeth, partial dentures might be the right tooth-replacement treatment for you. Learn more about this therapy by calling our office at (540) 828-2312 or contacting us online.