Preserve Your Tooth and Restore Dental Function with a Root Canal Procedure
If you are experiencing tooth pain or discomfort due to damage or infection, we may recommend a root canal procedure at our office in Bridgewater, VA. This treatment involves the removal and replacement of unhealthy tissue to restore the comfort and function of your tooth. Drs. Joe McIntyre and Dan Whiting use gentle techniques and the latest methods and materials to provide a convenient, comfortable experience.
Signs You May Need a Root Canal Procedure
When a tooth is damaged by either severe tooth decay or injury, infection can develop in the soft tissue (pulp) inside the tooth. If left untreated, the infection can lead to tooth loss and jawbone damage, but root canal therapy can preserve the exterior of your tooth, relieve pain, and prevent further complications or the need for a tooth extraction.
Root canal therapy can alleviate painful symptoms and help you avoid the need for tooth extraction.
Symptoms of a damaged or infected tooth in need of treatment include:
Sporadic, acute, or constant pain that radiates throughout face and jawline
Sensitivity to heat and cold
Pain when pressure is applied
Tooth cracks or discoloration
Persistent bad breath
Swollen, tender gums
Fever, abscess, or visible signs of infection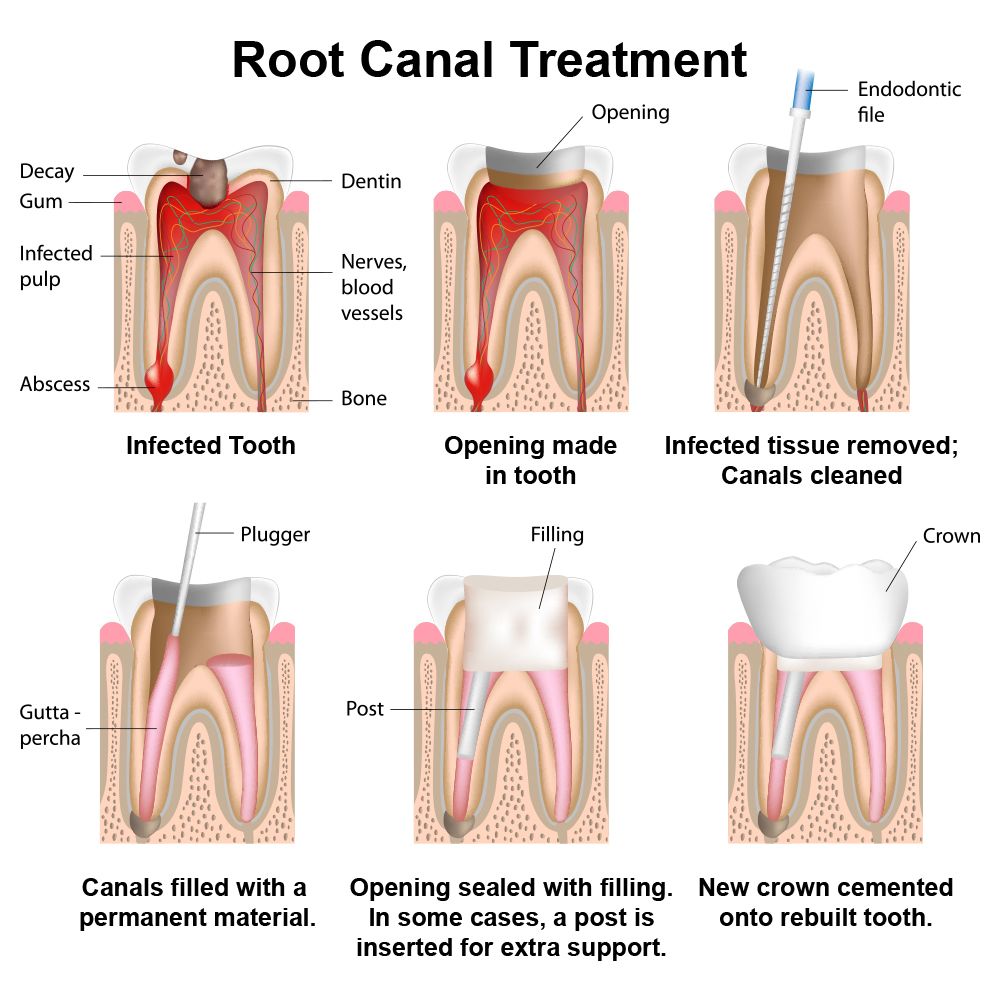 The Procedure
During your initial consultation, your dentist will meet with you to discuss your dental concerns and perform a thorough examination. If your dentist determines that root canal therapy would benefit you, he or she will first review the treatment process and take time to answer any questions you may have. The procedure consists of five fundamental steps:
Step 1: X-rays are taken to determine the precise location and extent of the dental damage.
Step 2: You will receive a local anesthetic to numb the area. To ensure your comfort, we also offer different options for sedation, such as nitrous oxide ("laughing gas") or oral conscious sedation for our patients who feel anxious or otherwise uncomfortable.
Step 3: Your dentist will create an opening in the tooth, remove the infected pulp, and thoroughly clean the inside of the tooth.
Step 4: The tooth is filled with a rubber-like material called gutta-percha, and the access point is sealed.
Step 5: Your dentist will place a dental crown to restore strength and function. In most cases, your procedure can be completed in two to three office visits.
Benefits of a Root Canal
Contrary to popular belief, a root canal is a comfortable procedure. It can help you:
Avoid tooth extraction and more costly dental procedures
Eliminate dental pain and restore dental function
Preserve the health of your jawbone and surrounding teeth
Proper oral hygiene is necessary to avoid further infection and maintain dental health. By brushing your teeth twice a day, flossing daily, limiting sugary foods and beverages, and rinsing with an antibacterial mouthwash, you can keep your smile healthy and bright. We also recommend scheduling dental checkups every six months.
Contact Us
If you are experiencing any type of dental pain or sensitivity, our dental experts can help. Contact us online today or call (540) 828-2312 to schedule an appointment or to speak with a member of our team.