In-office and Take-home Teeth Whitening Can Give You a Truly Dazzling Smile
For a dramatic improvement in the appearance your smile, Joe McIntyre, DDS, Dan Whiting, DMD, and Bryant Ash, DDS, proudly offer teeth whitening at their offices in Staunton and Bridgewater, VA. When you visit Smiles for Life, you can choose between in-office and take-home whitening treatments, which can also be combined for truly stunning results. The Venus White® system uses a safe but powerful gel to break down stains, brighten your smile by several shades, rejuvenate your appearance, and boost your confidence. To find out more about our teeth-whitening treatments, contact Smiles for Life today.
Are You a Candidate for Teeth Whitening?
Our Venus White® teeth whitening treatment generally works best for patients with minor to moderate stains on the surface of their teeth. For severe staining or discoloration inside your teeth, we typically recommend an alternative cosmetic dentistry option. For example, porcelain veneers can fully conceal darker intrinsic stains that do not respond to whitening. To determine which option would be best for you, Dr. Whiting, Dr. McIntyre, or Dr. Ash will first evaluate your teeth and treatment goals.
In many cases, combining in-office and take-home care treatments can achieve dramatic results, boosting your confidence and giving you even more reasons to smile.
Even if you suffer from tooth sensitivity, you can still undergo whitening. Your comfort is our priority, and we do our best to make sure procedures are as smooth and painless as possible. If you have a history of sensitivity, you may want to choose in-office whitening so that your dentist can monitor your entire treatment.
Our Professional Whitening System
During in-office Venus White® Max treatment, your dentist or hygienist will first place protective coverings over your gums before applying the whitening gel directly onto your teeth. It will remain there for 10 to 20 minutes so the whitening molecules can penetrate the enamel and dissolve stains in the dentin. Your dentist will apply the gel two or three additional times to fully eradicate discoloration.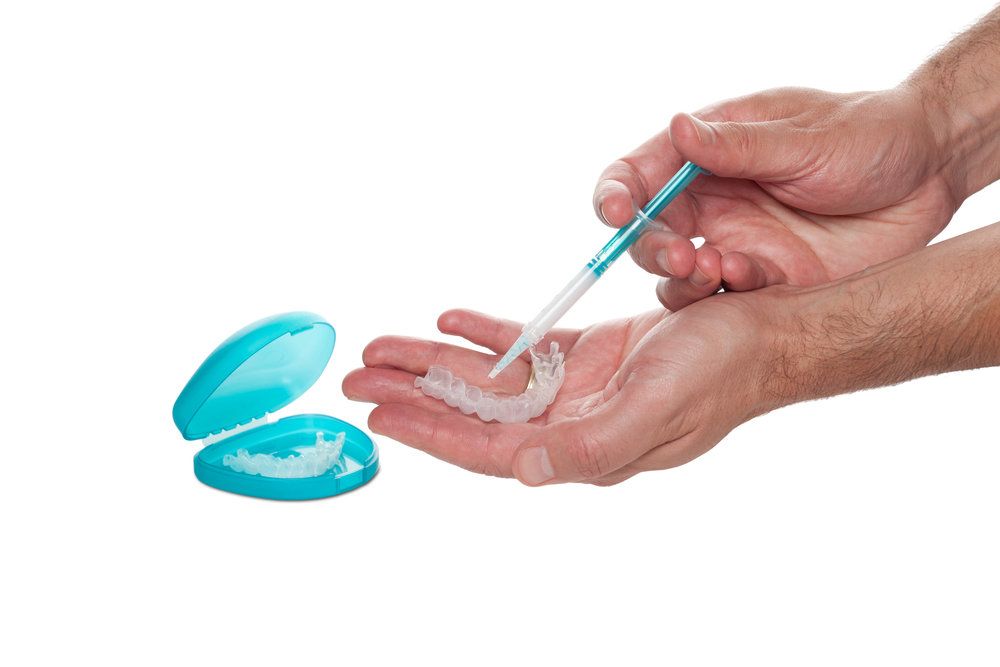 Alternatively, we can provide you with Venus White® Pro take-home trays. The product can lighten your smile up to eight shades and comes in three different strengths. Based on your cosmetic goals and needs, your dentist will carefully select the appropriate strength for you. Using a syringe, you will fill these custom-made trays with whitening gel. You can wear the trays during the day or overnight, depending on what works best for your schedule.
In many cases, we recommend combining in-office and take-home care to achieve more dramatic results. You can also use take-home trays to perform regular touch ups after your initial whitening treatment. Remember that it is important to follow your dentist's instructions with these repeat treatments to avoid damaging your enamel or irritating your gums.
The Benefits of Teeth Whitening
Teeth whitening is a simple and affordable option that can substantially enhance your appearance by providing a brighter smile that complements all your features. Many patients also report an increased sense of self-confidence, no longer hiding their teeth for family photos or job interviews. Some patients even feel more inclined to speak publicly or to take on leadership roles. Most importantly, you will be ready to share your smile with family and friends, and to make a positive first impression on everyone you meet.
Contact Us for More Information
At Smiles for Life, we want to help you experience all the benefits of a beautiful smile. To learn more about our teeth whitening treatments, contact Smiles for Life today.