Dental Crowns After Root Canal Therapy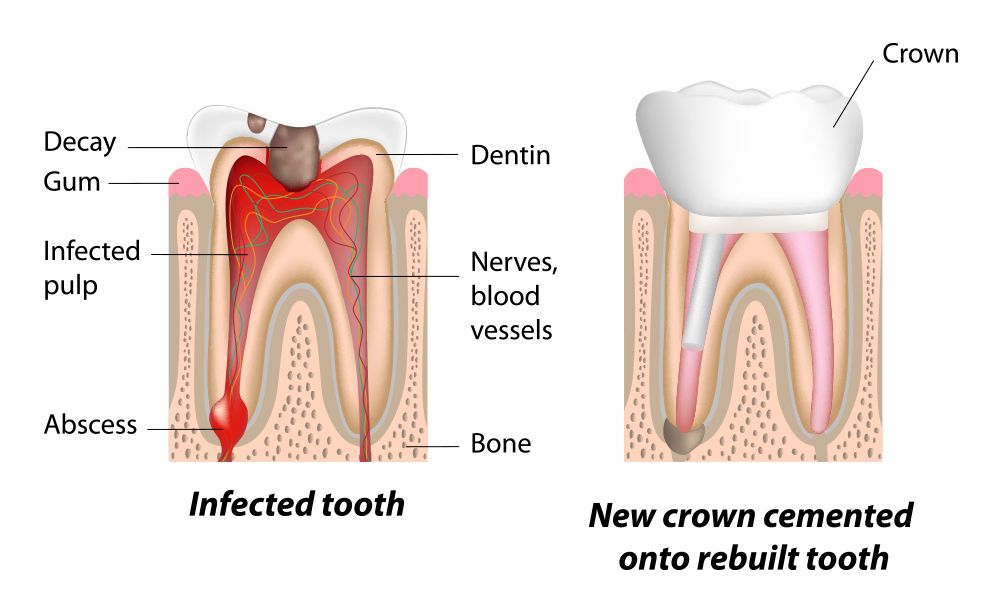 An infected tooth needs to be treated as soon as possible to prevent serious issues affecting your dental health and overall wellness. The ideal treatment option is typically root canal therapy (endodontic treatment). The Smiles For Life team has helped restore the smiles of countless patients in the Harrisonburg, VA area thanks to root canal treatment.
Dental crowns are an important part of the root canal process. Let's discuss the use of dental crowns during root canal therapy, what patients can expect, and proper aftercare of crowns for the healthiest smile possible.
What Happens During a Root Canal
During a root canal procedure, the infected tooth is drilled, allowing a dentist access to the pulp chamber within the tooth. The infected dental pulp within the center of a tooth is removed. The inside of the tooth is then sterilized in order to remove all bacteria and prevent future infections from occurring. The tooth is then filled with an inert material, which allows the tooth to continue functioning properly.
Thanks to a root canal, a tooth is saved from extraction, and a person's dental health and wellness is improved.
Why Dental Crowns Are Necessary
While the treated tooth does not need to be extracted, it will require a restoration for restored function. The crown protects the remaining tooth structure for further decay and fractures while allowing the patient to bite and chew as they did before the tooth infection.
How Dental Crowns Work
Dental crowns are caps that fit over a tooth, offering strength and stability. A little bit of the outer tooth structure is removed to accommodate the crown, which fits snugly over the healthy tooth structure that remains. The crown is custom designed for an excellent appearance and fit.
Will I Get Tooth-Colored or Metal Crowns?
That depends.
When placing a crown on a patient's front teeth, our Harrisonburg dentists are more likely to use a tooth-colored dental crown that blends in seamlessly with the rest of a person's smile. For molars and premolars, the use of metal crowns is sometimes recommended given the added durability.
During the consultation process, we can discuss what your treatment goals are and why a certain type of crown might be best for your long-term dental health and wellness.
Adjusting to Your Dental Crowns
In the first few weeks with a new dental crown, it can take a bit of getting used to. Patients should eat predominantly soft foods and liquids, and try to chew on the side of their mouth opposite the new crown. Sticky candies and foods should be avoided during this time to prevent prying the new crown off. Gradually, patients will get used to the feel of their new crowns and the overall condition of their bite.
Proper Crown Aftercare
Caring for a new dental crown is relatively straightforward. Patients should brush at least twice a day and floss at least once a day as they usually would. Be sure to use a soft-bristled toothbrush with a small head and a non-abrasive gel toothpaste to avoid damaging the crown material.
Learn More About Advanced Dentistry
If you live in the Harrisonburg area and want more information about helping your smile look its best, be sure to contact the dentists at our practice. You can schedule a consultation at our Bridgewater location by calling (540) 208-5911 and at our Staunton location by calling (540) 887-3304.
Related to This