Traditional Bridge vs. Implant-supported Bridges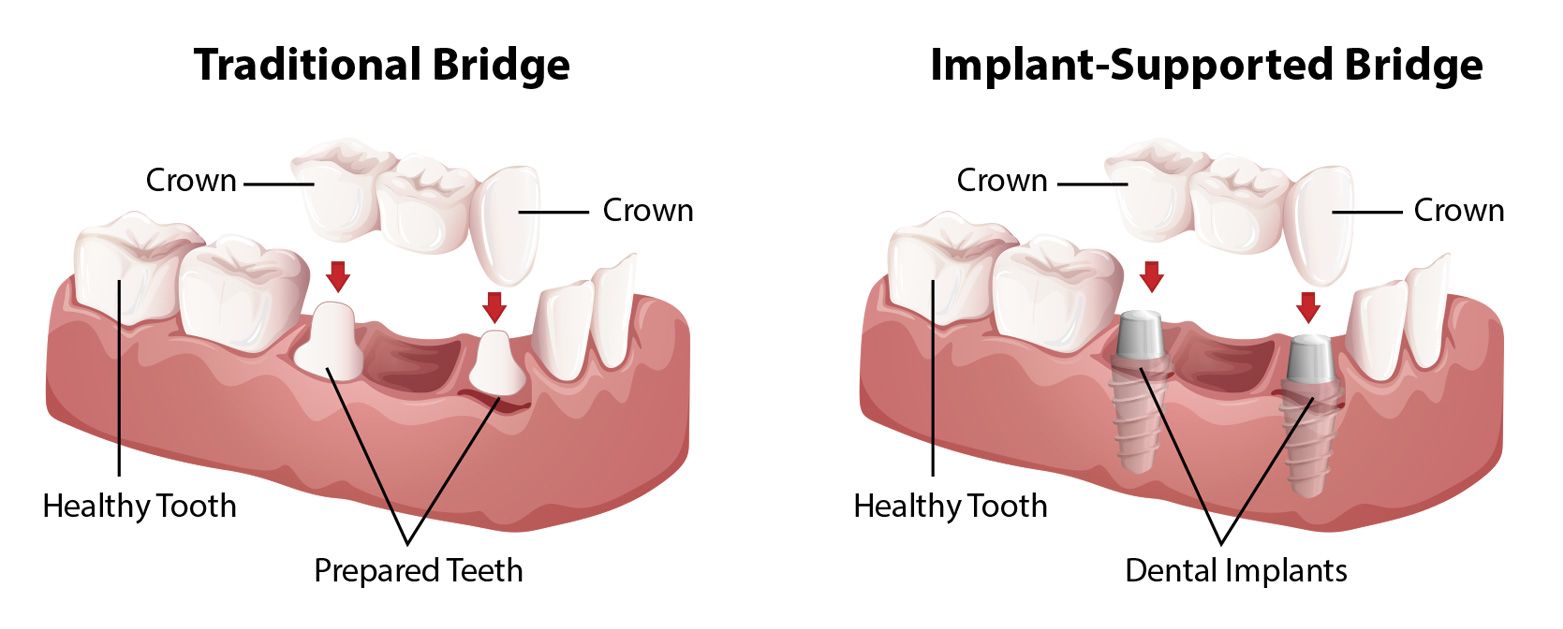 Tooth loss is a common dental concern, especially as people grow older. There are several restorative dentistry treatments that address tooth loss to fill in gaps left by missing teeth. When a set of consecutive teeth has been lost, the most common treatment is a dental bridge.
At Smiles for Life Dental Care, we offer traditional bridges, which are secured by dental crowns; and implant-supported bridges, which are anchored by surgically placed dental implants. Our dental team reviews traditional bridges vs. implant-supported bridges with our Harrisonburg, VA, patients, and helps them choose the technique that is best-suited to their individual needs.
Traditional Bridge Treatment
Traditional dental bridges are typically applied over two dental appointments. At the first appointment, we prepare the mouth for treatment and take molds that are used to design the dental bridge. At the second appointment, the dental bridge is bonded in place.
A traditional bridge consists of a pontic, the center piece that replicates the missing teeth, and two dental crowns (one on either side of the pontic). To accommodate the bridge, we reshape the two teeth immediately adjacent to the gap of missing teeth. After reshaping these teeth, molds are taken and a temporary bridge is placed.
Design specifications are sent to our dental laboratory, where the permanent dental bridge is fabricated. When the bridge is complete, patients return to our office to have it placed. Dental crowns are bonded to the reshaped teeth, and the pontic sits between the crowns to fill in the space left by tooth loss.
Pros and Cons of a Traditional Bridge
Traditional bridges offer many benefits. These restorations are strong, durable, and attractive. They effectively restore oral functions while enhancing the appearance of the smile. Traditional bridge treatment is also faster and more affordable than an implant-supported bridge.
For all their benefits, traditional bridges do have some drawbacks for our Harrisonburg patients to consider. Traditional bridges require the alteration of healthy teeth. They also fail to prevent bone degeneration, or the loss of healthy bone tissue. Over time, the jaw beneath a traditional bridge may weaken or even cave in.
Implant-supported Bridge Treatment
An implant-supported bridge requires several stages of treatment, which are spaced out over the span of about six to nine months. First, dental implants are surgically placed in the jaw beneath the area of tooth loss. After surgery, the mouth needs several months to heal. During this period, the bone tissues should fuse with the dental implants in a process called osseointegration.
After osseointegration takes place, the second stage of treatment is scheduled. During this procedure, the gums are opened up and abutment posts are attached to the implants. Following this step of treatment, the gums will again need time to heal.
The final stage of dental implant treatment involves the placement of the dental bridge. A special dental compound is used to bond the dental bridge to the abutment posts. This secures the dental bridge so that it becomes like a natural part of the smile.
Pros and Cons of an Implant-supported Bridge
The most obvious cons of an implant-supported bridge are the length of time it takes for all the stages of treatment to be complete, and the cost of this multi-step procedure. However, despite these downfalls, many of our Harrisonburg patients find that the pros of an implant-supported bridge outweigh the cons.
An implant-supported bridge does not require any alteration to the natural teeth. Furthermore, dental implants hold a bridge securely so that it feels and functions just like the natural teeth, and is just as easy to care for. Dental implants even act as artificial tooth roots, which stimulate the jaw to prevent bone loss.
Contact Us
If you have experienced adult tooth loss, the restorative dentistry treatments offered at Smiles for Life Dental Care can help you rebuild your smile. To find out which treatment option may be best for you, send us a message at your earliest convenience or call (540) 208-5911 to speak with a member of our team.
Related to This