All-on-4® Aftercare and Cleaning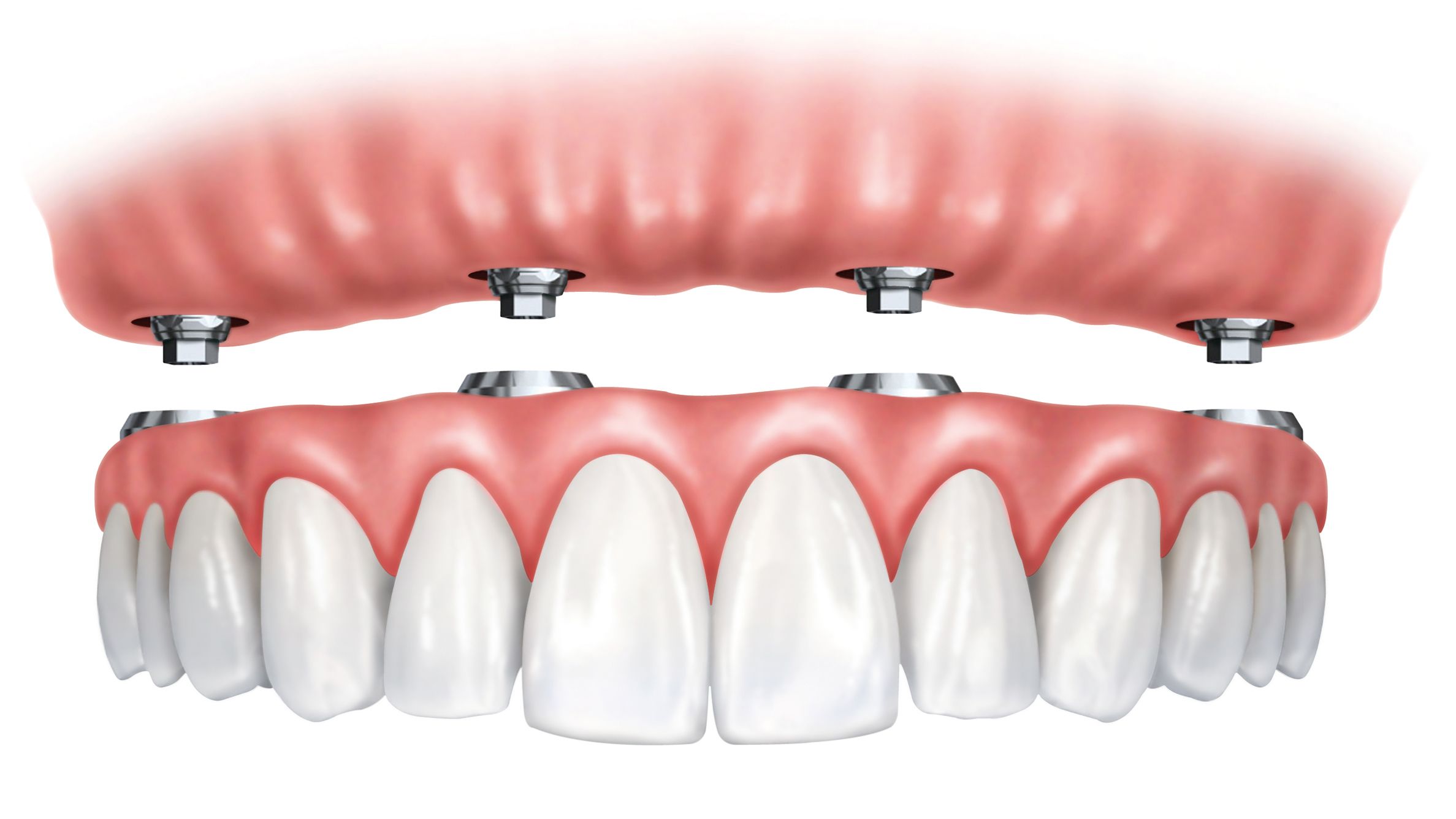 All-on-4® implants offer patients a more affordable option for the replacement of missing teeth, without the need for bone grafting surgery. With proper aftercare, the implants and protheses can last for many years to come.
At Smiles for Life in the Harrisonburg, VA, area, our dentists educate patients on proper at-home All-on-4 aftercare and cleaning. In addition, we offer regular cleanings and deep cleanings to keep your protheses and oral health at their best.
Use Specially-designed Toothbrushes
There are toothbrushes designed specifically to clean the area between the gums and the prosthesis. These flatter, angled brushes can better reach built up food debris from hard to reach areas of the mouth.
In addition, you may want to use a regular, soft-bristled toothbrush, which offers more surface area, to clean your prothesis. Be sure to brush all areas of the protheses and gums at least twice a day.
Check local and online stores to try out different brush options, including interdental toothbrushes, implant toothbrushes, and sulcus toothbrushes.
Use a Floss Threader
Floss threaders have a stiff end, which makes it easier to insert between the gums and prothesis. This allows patients to reach areas where food particles and plaque typically get trapped. A floss threader should be used at least once a day.
Use a Waterpik
A Waterpik or water flosser is a device that allows you to apply a steady stream of pressure to your prothesis, between the prosthesis and the gums, and other areas of the mouth. In addition, these devices often come with specially-designed toothbrushes that allow you to better clean your appliance and mouth.
To avoid damaging your prothesis, we recommend keeping your water floss setting on medium or low.
Use your water flosser twice a day for the best results.
Use a Mouth Rinse
Use an alcohol-free, antiseptic mouth rinse to relieve gum irritation that may be caused by your prothesis. Daily use of a mouth rinse can help remove small particles from the protheses.
If you experience significant gum swelling or irritation, try using a saltwater rinse for two to three days. If the inflammation doesn't go down, contact our Harrisonburg area offices for an appointment.
Visit the Dentist Every Six Months
It is important to visit your dentist at least every six months so the health of your gums and the condition of your protheses can be monitored. In most cases, we will keep your protheses in place while we clean them.
If food debris has built up on a prothesis, we can remove it for a thorough cleaning. However, to prevent damage to the implant's threading and to the prosthesis, it is better to keep the prothesis in place for cleanings. That is why at-home care is so important to prolonging the lifespan your restoration.
Contact Our Practice
To learn more about how you can care for your All-on-4 implants and restorations, contact our Harrisonburg area practice today. You can contact us online or call us at (540) 828-2312. We look forward to working with you to improve your oral health.
Related to This