Six Month Smiles® vs Invisalign®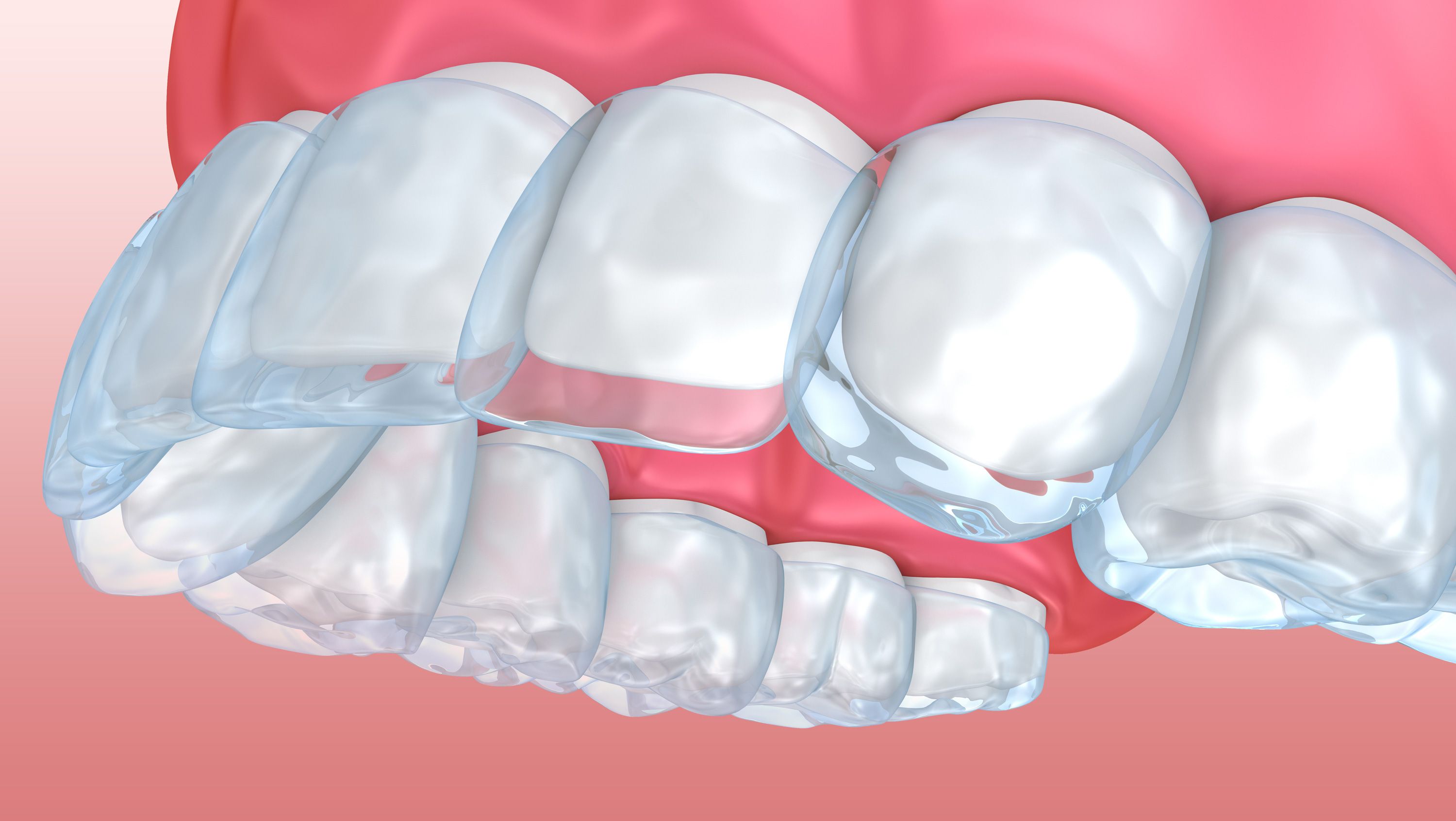 Six Month Smiles® and Invisalign® are orthodontic treatment options that can straighten the teeth. They share many similarities: they are discreet, offer some flexibility to patients, are comfortable, and effective. However, there are also differences that set the two treatment processes apart.
Six Month Smiles® uses brackets and wires to straighten the front teeth in just six months, while Invisalign® uses clear aligners and typically takes longer to straighten the teeth. For more detailed information about Six Month Smiles® vs Invisalign®, read on, and then contact Smiles for Life in Harrisonburg, VA to schedule a consultation with Dr. Joe McIntyre, Dr. Dan Whiting, or Dr. Kelsey Rockey.
Brackets and Wire System vs. Clear Aligners
Patients that undergo Six Month Smiles® can expect to have clear brackets and wires placed on the teeth for the duration of treatment. Because they are clear, they are more discreet than traditional braces. However, they are more noticeable than Invisalign®.
Patients that undergo Invisalign® treatment wear removable clear aligners throughout the treatment process. A new aligner is used every two weeks as the patient progresses through treatment, gradually improving the position of the teeth.
Anterior vs. All Teeth
The reason that Six Month Smiles® treatment is so fast is because only the anterior, or front facing, teeth are treated. If patients have overcrowding, gaps, or bite issues that only affect the anterior teeth, this is an ideal treatment option. Six Month Smiles® can address minor to severe cosmetic problems of the front teeth, dramatically improving the appearance of the smile.
The Invisalign aligners fit over the entire arch of teeth, allowing for some movement of all of the teeth. However, Invisalign® is best suited to patients that have minor to moderate overcrowding or bite issues. More severe alignment problems may need to be treated with braces.
Six Months vs. An Average of One Year of Treatment
Six Month Smiles® requires up to six months of treatment. In most cases, Invisalign® takes one year of treatment. However, for Invisalign®, treatment time can vary depending on the number of aligners that are needed and how often the patient wears the aligners. Patients should wear their aligners for at least 20 hours a day to progress through one aligner every two weeks.
Cost
Because Invisalign® treatment takes longer and requires several aligners, it is typically more expensive than Six Month Smiles®. Invisalign® patients are monitored by the dentist over a longer period of time. In addition, they wear a new aligner every two weeks, whereas Six Month Smiles® patients wear the same brackets and wires for the duration of treatment.
Care
The brackets and wires used in Six Month Smiles® stay on the teeth throughout the course of treatment. Patients must brush around the brackets, and thread floss through the wires to keep the teeth clean.
The Invisalign® aligners are removable, allowing patients to brush and floss the teeth as they normally would. This makes oral hygiene easier for Invisalign® patients.
To find out if Six Month Smiles® or Invisalign® is right for you, contact Smiles for Life today.
Related to This