Invisalign® for Gapped Teeth: Closing the Gap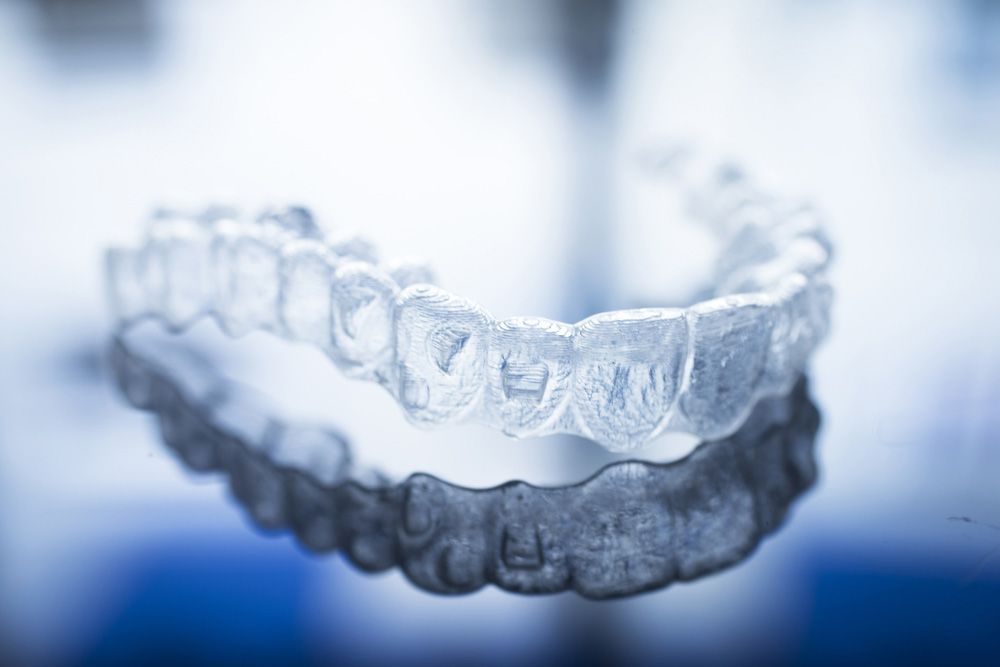 While braces are a tried and true treatment for straightening crooked teeth, more and more people are turning to Invisalign® for their orthodontic needs. Our Harrisonburg, VA dental practice has helped many patients with invisible alternative to traditional braces.
Let's take a moment to consider the basics of Invisalign® and how it can help you have a properly aligned smile. First, let's consider why tooth gaps need to be taken seriously.
Problems Caused by Tooth Gaps
If you have gaps between teeth, these spacing problems can affect the appearance of your smile as well as your overall dental health.
In terms of smile aesthetics, tooth gaps can lead you to feel self-conscious about the look your smile. This self-consciousness could result in a reluctance to laugh, speak, and smile, ever around people you have known for years. If you have a job that involves a lot of public interaction, the tooth gap can have a negative impact on your professional performance.
As far as your dental health is concerned, spacing issues can lead to a numbers of problems. The gaps could result in poor dental alignment, exerting extra pressure on certain teeth from normal biting and chewing. What's more, tooth gaps may contribute to instances of bruxism (teeth grinding), which over a long period of time can lead to fractures, gum recession, TMJ disorders, and more.
How Invisalign® Works
The Invisalign® system uses clear plastic aligners that are worn at all times except when eating, drinking, and cleaning your teeth. That makes up roughly 22 hours each day when you'll have Invisalign® aligners in place.
After wearing your Invisalign® aligner for two weeks, you'll discard it and wear the next aligner tray in sequence. The process continues until your teeth are straight and your smile looks great.
The Benefits of Invisalign®
There are many key benefits to getting Invisalign® rather than traditional braces:
Invisalign® aligners are hard to notice
Invisalign® aligners can be easily removed and cleaned
No difficulty brushing and flossing while undergoing Invisalign® treatment
You can still eat your favorite foods while undergoing Invisalign® treatment
Invisalign® is perfect for teens and adults
The Invisalign® process is simple and straightforward
How Long Does Invisalign® Treatment Take?
Most patients will undergo Invisalign® treatment for 12-24 months depending on the nature of their malocclusion. For perspective, this is roughly the same duration a person would spend wearing traditional braces.
Does Invisalign® Hurt?
When transitioning from one aligner to the next, patients may have sensitive or tender teeth and experience some discomfort. Thankfully this discomfort subsides after a few days of wearing the new aligner tray. Your dentist can offer advice on how to deal with this soreness as you move on to new Invisalign® aligners.
How Effective Is Invisalign®?
Invisalign® is extremely effective at closing gaps and correcting crowding and other spacing issues. Many patients who undergo Invisalign® have smiles that look straight and totally natural.
Is Invisalign® Right for Me?
The best way to learn if Invisalign® is right for you is to come to the practice for a consultation. We will be more than happy to answer your questions and address your concerns, offering a honest assessment about all of your treatment options and which one might be most ideal for your needs.
Learn More About Advanced Orthodontics
If you would like more information about Invisalign® and how it can help you have a healthy and beautiful smile, be sure to contact an experienced cosmetic and restorative dentist. We will be more than happy to discuss all of your orthodontic treatment options in much greater detail.
Related to This