Invisalign® Teen: Invisible Orthodontics for Teenage Patients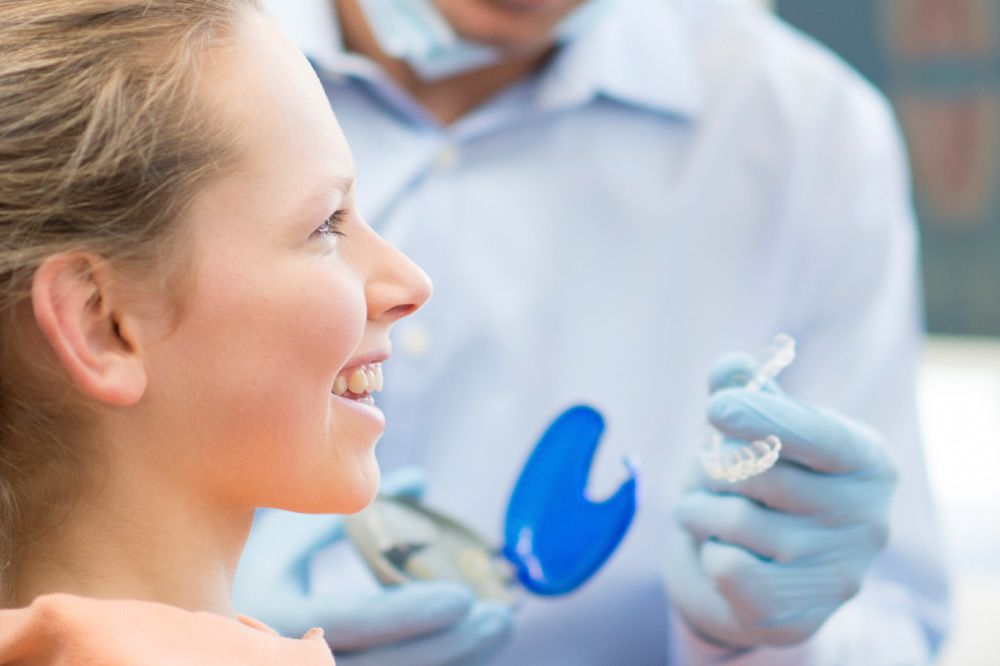 Invisalign® Teen is a version of Invisalign® that is specifically designed to address the needs of teenage patients with crooked teeth. While there are a few difference from Invisalign® for adults, the system is still essentially the same, and is a wonderful alternative to traditional orthodontics.
The team at Smiles For Life is proud to offer this advanced orthodontic/dental care option for teens in the Harrisonburg, VA area. Let's cover the basics of Invisalign® Teen so you can figure out if it's right for you.
How Invisalign® Teen Is Like Traditional Invisalign®
Patients are given custom-made clear plastic aligner trays. These aligners are worn at all times except when eating, drinking, or sleeping (roughly 20 to 22 hours a day). Every two weeks, the old aligner is discarded and a new aligner will be used instead, gradually shifting the teeth into proper position.
How Is Invisalign® Teen Different?
Invisalign® Teen has a few key features that distinguish it from normal Invisalign® treatment:
Blue dot indicator
Eruption tabs for new teeth
Option to replace lost aligners
Special considerations for teenage self-esteem
Let's explore each feature in more detail below.
Blue Dot Wear Indicator
The Invisalign® Teen aligner trays have a small blue dot on them. These dots will fade over the course of about two weeks to let patients know that it's time to switch to a new aligner tray. Consider this a friendly reminder as you're going through the treatment process.
Eruption Tabs for Incoming Teeth
Some teenage patients may have permanent teeth that are still emerging. Invisalign® Teen takes this into account. Thanks to eruption tabs, the Invisalign® aligners will accommodate incoming teeth and allow them to fill in the dental arch in proper position.
The Ability to Replace Lost Aligners
Accidents can happen. Sometimes you might lose an aligner tray while playing sports or while out to lunch or dinner with friends. If that happens, Invisalign® Teen has you covered. A select amount of aligner trays can be replaced free of charge.
Keeping Self-Confidence and Self-Image in Mind
Invisalign® Teen was developed by skilled orthodontists who had teenagers in mind. The aligner trays and the overall system helps teens/young adults who are going through issues with self-esteem and self-confidence. Apart from being effective orthodontic care, Invisalign® Teen has your feelings and your sense of worth in mind.
The Benefits of Invisalign® Teen
Beyond the above differences, Invisalign® Teen has the same benefits as traditional Invisalign® treatment. That includes:
Convenience and Ease of Use - With Invisalign®, all you have to do is wear your alingers and replace them as instructed. The system is simple and effective.
Easy to Clean and Remove - Invisalign® aligners pop out with ease, meaning that brushing and flossing your teeth is simple and presents no hassles.
Orthodontic Care That's Hard to Notice - Invisalign® aligners are hard to detect, even when people are up close. The aligners seem to blend in with your smile.
Results Comparable to Braces - The results of Invisalign® are comparable to braces, and the overall treatment time is about the same as well.
Contact the Dentists at Smiles For Life
For more information about Invisalign® Teen and why it may be the right option for you and your needs, be sure to contact our team of family dentists today. The team at Smiles For Life is here to help you smile with greater confidence.
Related to This